A Conversation About Cambridge Pavers
We are here to help you 6 days a week and respond usually within 24 hours. 
More than just a leading Queens and Nassau County masonry supply store.
Valley Supply is more than just a leading Queens and Nassau County masonry supply store; we're also one of the only designated "Premier Distributors" of Cambridge Pavingstones in the area. What does this mean for our customers? We carry the full line of Cambridge ArmorTec® Pavingstones and you can be certain you are getting the highest quality, genuine Cambridge pavers. Valley Supply has been providing Cambridge products to satisfied customers for 20 years.
The Cambridge Pavingstone system with ArmorTec® is the choice for quality, trusted, long lasting pavers for your patio, pool deck, walkway and driveway. There are hundreds of colors and patterns to choose from within 9 collections!
Come and visit our 20,000 square foot facility and view first hand our displays and samples. Talk with our knowledgeable and experienced team about your project needs and let our knowledge and experience help guide you on the possibilities for your outdoor masonry project and landscape structures.
All brands of concrete pavers are made from a mixture of sand, aggregate, cement, pigment and some water. Cambridge has advanced this old system of creating concrete pavers to a new level of quality and durability called ArmorTec®.
All Cambridge Pavingstones are made with ArmorTec® and have a smooth and dense surface rich with color that will maintain its true integrity. There are no unsightly holes, or blemishes from stone particles that will show on the surface because only super-fine granules of sand, along with the highest quality cement are used in Cambridge pavers. When you choose Cambridge Pavingstones you are getting the highest quality pavers that are sure to bring beauty and satisfaction for years to come.
ArmorTec® meets or exceeds standards set by Interlocking Concrete Pavement Institute (ICPI) and ASTM International. Cambridge ArmorTec® Pavingstones are also slip-resistant, surpassing the standards set by the Americans With Disabilities Act. This makes them perfect for high traffic areas such as driveways, walkways and pool areas.
When you choose Cambridge Pavingstones, you're getting a higher quality, more cost-effective, more durable, more aesthetically pleasing and ultimately more economical surface than poured concrete, asphalt or brick. Call us at 516-825-0093 or come down and talk to us about the difference Cambridge pavers make in your landscape. 
If you are looking for materials to add a structure to your project,  Cambridge also offers Wallstone systems. Cambridge offers 3-color Wallstone blends in the MaytRx® Wall collection to chose from. Your project can include:
…and more! Our team at Valley Supply is happy to speak with you about Cambridge structure solutions and show you what is available.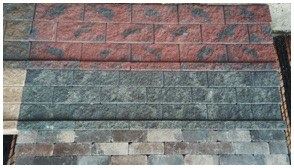 At Valley Supply we offer expert planning and assistance picking out the pavers  you are sure to love for years to come. Visit our huge pavers selection in our 20,000 square foot facility. Here you can walk around and view the assorted styles and colors offered by Cambridge and see what goes into the quality of Cambridge ArmorTec® Pavingstones. Seeing samples first hand will help you envision what your project could look like. Whether you know exactly what you are looking for or are just getting started putting your ideas together, we'd love to help you out. Valley also carries limestone, granite, brick, precast concrete, thin stone veneer. sand, cement as well as our vast selection of Cambridge pavers. Our expert team can help you pick out the perfect paver and color for you. We offer on-site delivery and when you are ready to start your project we can offer a list of local contractors as well.
Pavers and masonry supplies are cumbersome and heavy. We offer on-site delivery so that you don't have to load and transport these materials yourself. If you are working with a contractor, we can make the arrangements for purchase and/or drop off directly with your contractor to make things run as smooth and seamless for you as possible.
Creativity has no limits to what you can do with your outdoor living space when you explore the high quality and value of Cambridge product lines. There are many styles and colors to match or compliment the hundreds of selections of Cambridge Pavingstones to complete your landscape design. 
Come on down to Valley Supply's 20,000 square foot facility to explore what is possible for your next project. Our staff are experts on the full range of Cambridge product lines and we are happy to impart our knowledge and suggestions to help you with your project. We also carry a full range of quality masonry supplies to ensure you'll have everything you need to start and finish your project.
When you shop at Valley Supply for Cambridge Pavers you are getting the service and integrity of a family owned business that has been serving Queens and Nassau County for over 60 years. And we have been providing Cambridge products for 19 of those years. That tells you something about the quality of our service and the products we supply. We are here to serve you and happy to answer any questions you may have about our products. Give us a call at 516-825-0093 or stop in today and see for yourself what makes our facility your choice for your Cambridge Pavingstones selection.