Why Choose Valley Supply for Cambridge Pavers
Today many different manufacturers across our country produce segmental pavers.
About 19 years ago a new manufacturer decided to expand distribution on Long Island. It was then, Cambridge Pavers had made their first introductory visit to Valley Supply to meet with Steve and Pete. At that time Valley Supply stocked several paver brands. After attending product workshops at Cambridge studying and reviewing the new Cambridge line, they realized they were looking at a much superior product! So they decided to be one of the very first dealers on Long Island to stock the Cambridge product line!
It's been 19 years now since that decision – and Valley Supply has been providing Cambridge products to satisfied customers ever since. That means there's a great deal of knowledge and experience to be had with Steve or Pete at Valley Supply having been certified as one of the few "Premier Distributors" by Cambridge Pavers. That's important because you've likely come to our website because of your interest Cambridge Pavers!
This Premier Distributor designation, means you don't need to be concerned with "big-box" or a mega industrial supply houses stocking multiple paver product lines where you are faced with a "bait and switch" sales tactics – ending up with something other than a genuine Cambridge product that you really want.
Valley Supply has been here since 1956 as a local family owned and operated mason & building supply. Valley Supply, at the same location for over 50 years, is not one of those "big box" stores.
Valley Supply is not a contractor so there's no commitment and no pressure – just local friendly advice and ideas for your Cambridge project. And when you do decide to move forward with your project, Valley Supply can offer a list of Cambridge installer contractors to chose from.
So, for advice and information on installing a Cambridge patio, outdoor living, or wall system give Pete or Steve a call or better yet, come by. Our number is 516-825-0093. It's best to visit in person to view our line-up of the most popular Cambridge paver and wall products on display. 
We can also arrange factory delivery of your Cambridge products anywhere on Long Island and beyond. And if you already have a contractor for your job, tell him or her about us to arrange to purchase the materials and schedule a drop off. And for visiting with us, mention "SUMMER2020" to be eligible for a discount offer on your order.
Be certain to choose a Cambridge Premier Dealer for your Cambridge Pavingstone needs. Choose Valley Supply.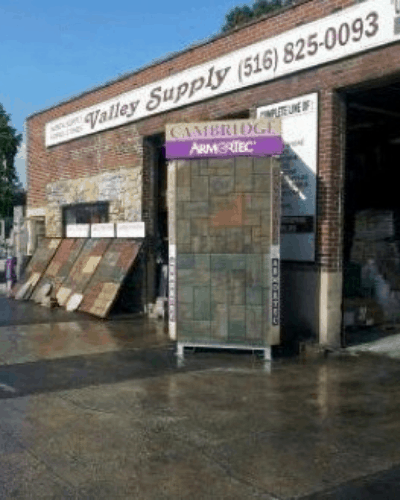 We also carry a full supply of top quality masonry supplies. Valley is your one-stop-shop for all your masonry projects big and small.
Valley Supply has been a family owned and operated business since 1956. 20 years ago we were one of the first dealers on Long Island to stock the Cambridge product line. Today Valley Supply is recognized as one of Cambridge's most knowledgeable and longest held "Premier Distributors". That means, you can trust our extensive knowledge, experience and expertise in selecting a Cambridge paver that is perfect for your outdoor project. When you shop at Valley Supply you can rely on getting genuine Cambridge pavers.
At Valley Supply we offer expert planning and assistance picking out the pavers  you are sure to love for years to come. Visit our huge pavers selection in our 20,000 square foot facility. Here you can walk around and view the assorted styles and colors offered by Cambridge and see what goes into the quality of Cambridge ArmorTec® Pavingstones. Seeing samples first hand will help you envision what your project could look like. Whether you know exactly what you are looking for or are just getting started putting your ideas together, we'd love to help you out. Valley also carries limestone, granite, brick, precast concrete, thin stone veneer. sand, cement as well as our vast selection of Cambridge pavers. Our expert team can help you pick out the perfect paver and color for you. We offer on-site delivery and when you are ready to start your project we can offer a list of local contractors as well.